A message from Ms Greenhalgh
I hope you've all had a good week and managed to avoid the torrential downpours we've seen at times! The weather has certainly given our PE staff a challenge or two, not to mention the students, who have valiantly competed in their chosen sports in very wet and muddy conditions.
Well done to our Year 11s who have now completed their Pre-Public Exams. They will get their results from their subject teachers over the next couple of weeks.
As you will see below, tickets are now on sale for our school production of Mary Poppins Jr. Please do support the cast by coming along to one of the shows which will take place on the evenings of 13, 14 and 15 December. Just pop over to ParentPay to get your tickets.
Wishing you all the very best for a lovely weekend!
Kind regards
Gemma Greenhalgh
Headteacher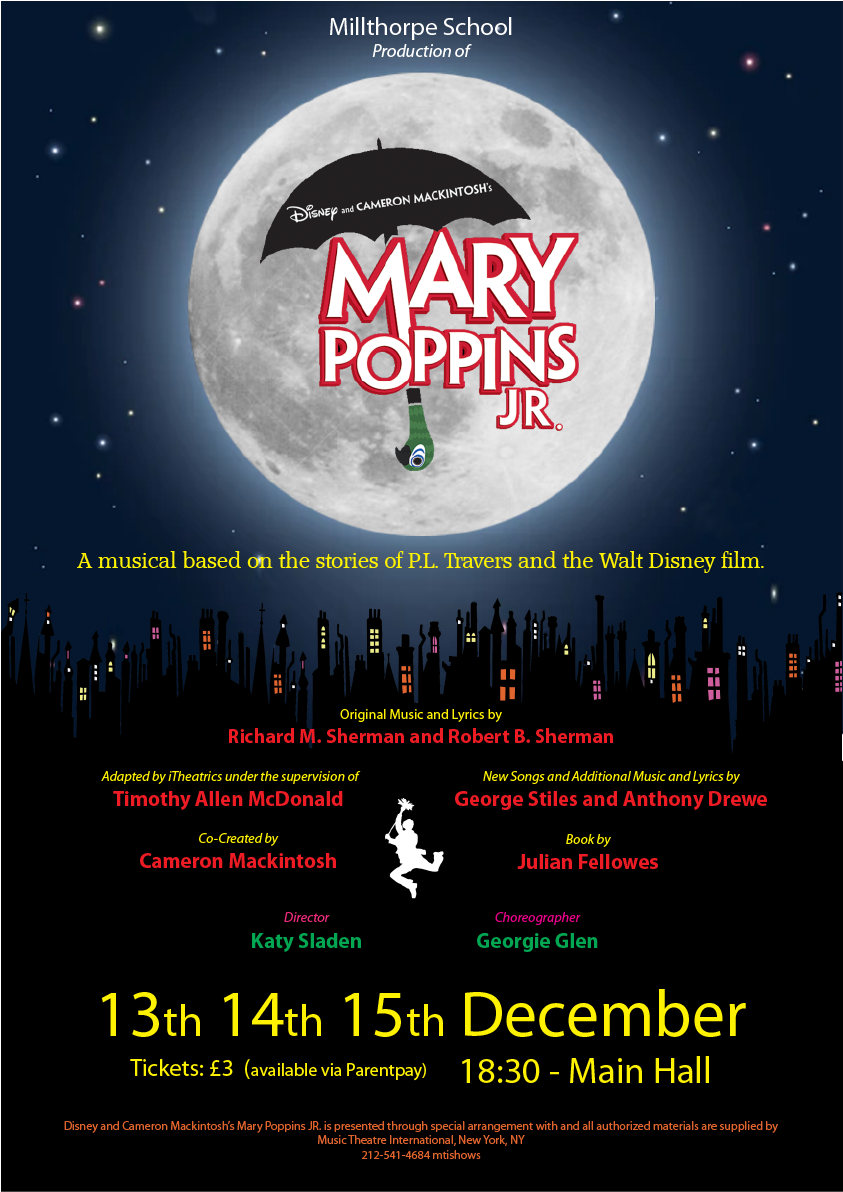 Parent/Carer Forum
We really value parents/carers' views at Millthorpe and would therefore like to offer you the opportunity to feed into the school improvement process. Over the last two years, a relatively small group of parents/carers have taken part in a virtual forum, discussing key issues including curriculum, attendance, behaviour and rewards. Feedback from the group has been used to shape our approach and help enhance the student experience. Although we've already had a number of parents/carers expressing an interest in joining this year's group, to keep it well balanced with representation from all years and student profiles, we are now seeking expressions of interest via the following email address: parentforum@millthorpe.southbank.academy 
Within your email, please state:
Your name
Your child's name and year group
Potential area(s) of interest
Preference: virtual or in person
The group focuses on school-wide solutions rather than providing a space to discuss individual parent/student concerns. If previous years are anything to go by, interest will be high and we may not be able to accommodate everyone this time around.
The date for the first meeting this academic year is Thursday 8 December at 4.30pm.
Millthorpe Christmas Homeless Charity Appeal and Non-Uniform Day
Next week in assembly Ms Greenhalgh will be launching Millthorpe's annual Christmas Homeless Charity Appeal. Each tutor group will be given a list of things they can donate and bring in to school by Friday 9 December please. On that day, we will also be holding a non-uniform day to raise money for our chosen charities.
More information to follow next week!
The Student Leaders
Year 8 digestive system model competition
In science lessons, Year 8 students have been learning about the structure and function of the digestive system. Now that all of our pupils have completed this topic, we are excited to give the pupils an opportunity to enter our digestive system model competition!
Pupils wishing to enter the competition should create their own model of a digestive system that they have learned about in lessons, from materials of their choice and hand this in to their science teacher. Pupils can make the model from anything they wish – in the past we have seen models made from paper, Lego and sweets! We want to see how creative our young scientists can be.
These model digestive systems will then be judged anonymously by all the Millthorpe science teachers on their creativity, scientific accuracy and quality. We will choose our favourite entries and award some very special prizes.
We would love to see as many different pupils enter as possible. To enter the competition, pupils should hand their model to their science teacher or hand it into the science office (upstairs in A block) by Wednesday 14 December. Winners will be announced after the Christmas break.
Uniform consultation
Thank you to all the parents/carers who contributed to the consultation on uniform. You can see a summary, with a response from the school, here. Whilst we aren't proposing any major changes, we're very grateful for the feedback, which we have used when selecting the school's uniform supplier going forward. We'll confirm who that is in the next week or so.
Year 9 football
Congratulations to the Year 9 boys football team, who in their last two matches bagged a fantastic 6-2 win against Vale of York Academy and a 2-2 draw against Manor CE Academy.
The draw against Manor was especially pleasing, as last season they beat our team 2-0, which resulted in Millthorpe finishing as runners-up rather than league champions.
Great work boys!
Cross country success
Well done to the 18 students who ran at the York and District Cross Country competition on Tuesday. It was great to see the students competing so well in very difficult running conditions thanks to the recent heavy rainfall – but this didn't put the runners off!
Some notable individual performances included:
Leo Forsdyke Y7, 3rd
Juliette Macquin-Jones Y7, 5th
Joseph Dodd Y7, 6th
Martha Harris Y7, 10th
Ralph Smith Y10/11, 5th
Oliver Priestley Y10/11, 11th
Well done to everyone who took part.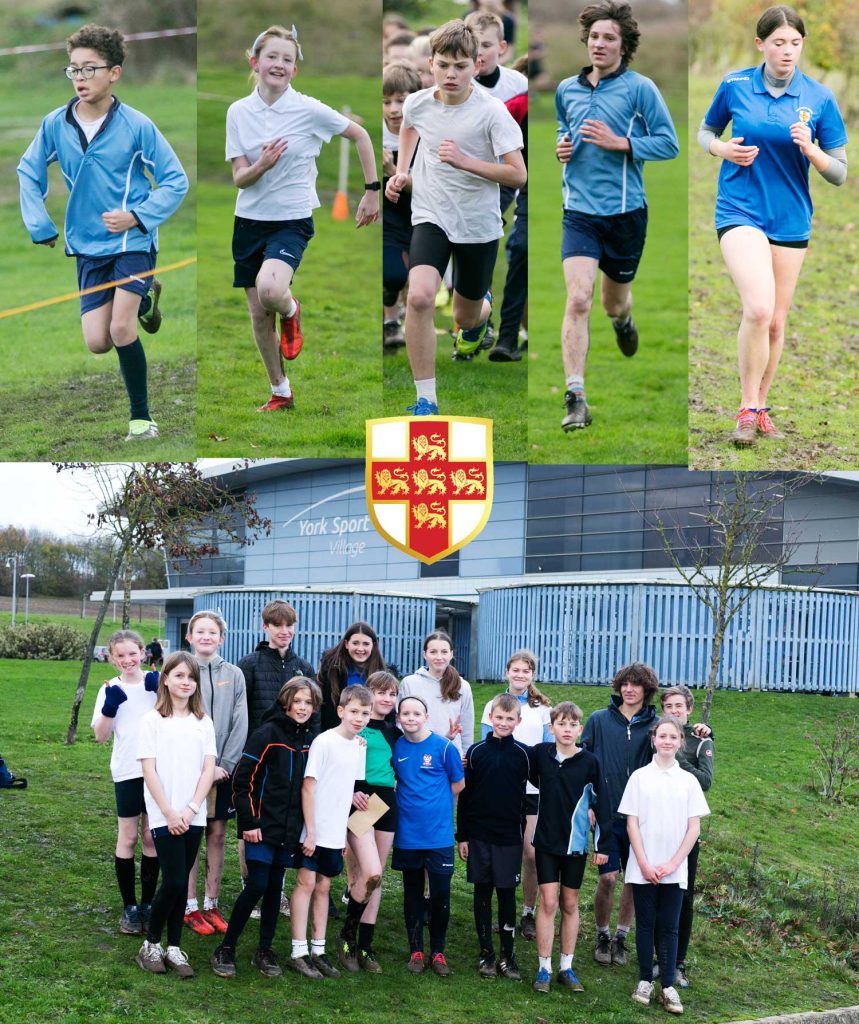 York College Open Event
A reminder that York College is holding an Open Event tomorrow, Saturday 26 November, from 10.30am-12.30pm. Visitors will need to pre-register via the York College website.
Art & Design Immersive Arts Club
The National Saturday Club is offering young people the opportunity to take part in the new Art & Design Immersive Arts Club at York St John University.
This is a FREE extra-curricular creative education programme, supported by Arts Council England and the Department for Education. Taking part can be a transformational opportunity for young people.
The programme is open to 13–16 year-olds of all abilities (Years 8, 9, 10 & 11) and in particular works to engage those who may face additional barriers to success.
The Club will commence in January and is now open for sign up, which can be done by through this link.
There will be a FREE Taster Day session on Saturday 10 December – places can be reserved through the event page.
You can find out more here or take a look at the attached poster.
Post-16 Taster Days – January 2023
A reminder to our Year 11 students that Post-16 Taster Days take place in lots of institutions across the city on Tuesday 10 January or Thursday 12 January.
If your son/daughter wishes to attend one of them YOU MUST APPLY BY THE DEADLINE OF 5 DECEMBER (unless otherwise stated). Schools and colleges will not take late bookings.
The attached document has all the offers in one place, including links to click on in order to access booking forms.
If you need any more information or help, please contact Miss Watts.
Safeguarding
If you have significant concerns for the welfare of a child, in addition to being able to contact Mrs Cole or Ms Simpson during school hours by emailing safeguarding@millthorpe.southbank.academy, you may wish to make direct contact with the York MASH (Multi-Agency Safeguarding Hub) on T: 01904 551900, option 3. They operate an out-of-hours service so concerns can be raised with them at any time.