A message from Ms Greenhalgh
I hope you all had a lovely half-term break. We've had a great week back at school and it's definitely starting to feel like spring has sprung!
It was lovely to chat to some of our students at lunchtime today and see them enjoying the improved dining areas. The new areas are proving popular with students and it's nice to see a steady, calm flow of students at break and lunchtimes. It was also good to see Mr Baybutt putting his back into the cleaning!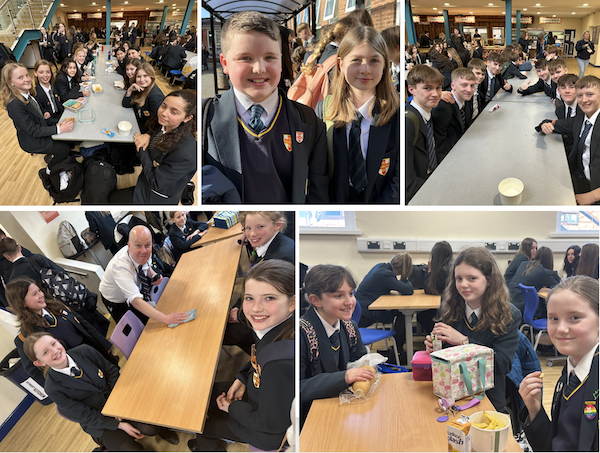 I'd also like to say well done to all those students who try hard every day to be respectful, responsible and ready. Your efforts do not go unnoticed and it's been great meeting just some of them on a Friday morning when we enjoy a hot chocolate and a chat.
A reminder that national strike action is planned for Tuesday 28 February (further information below) and that school will be closed to students on Friday 3 March for a staff training day.
Have a lovely weekend and we'll see everyone back at school on Monday for a 'B' Week.
Kind regards
Gemma Greenhalgh
Headteacher
National strike action – 28 February
As you may be aware, national strike action by the National Education Union (NEU) is planned for Tuesday 28 February. On that day we will only be able to open to vulnerable students and students in Year 7 and Year 11. Parents/carers should have received this letter yesterday which contains full information about plans for the day.
Assembly: Addressing sexual harassment in school
This week we have delivered assemblies to all year groups on sexual harassment, highlighting what it is and the importance of working together to call out unwanted and inappropriate behaviour in person and online. I have been so impressed by the maturity of all year groups and subsequent conversations I have had with students have shown that they are showing an interest in learning what they can do to support each other and reporting to an adult. This has been another opportunity to remind ourselves of how responsible and respectful our Millthorpe students are.
– Mrs Cole, Deputy Designated Safeguarding Lead
World Book Week
As you may be aware, next week is World Book Week! To celebrate our love of reading and the innumerable benefits it has for students, we are completing a sponsored Readathon in Years 7 and 8.
Your child/ren will have received a sponsorship card from their form tutor this week to encourage them to read and raise money for 'Read for Good'. The charity provides storytellers and free books to children in hospital as well as providing our school with vouchers for our school library. Please encourage your child/ren to read throughout the week and set themselves a challenge of a certain amount of pages, books, words or genres to complete throughout the week.
We will be dedicating time in English lessons for them to read, as well as celebrating the actual day with a live link to the author Michael Morpurgo on Thursday 2 March. Sponsorship money can be donated online or physical money can be brought to Ms Brooks in the library. The online sponsorship form can be found here.
Spring Concert
Our Spring Concert will take place at 7.00pm on Tuesday 14 March in the main hall. Featuring performances and dances from Millthorpe's finest, it promises to be a lovely event, so pop the date in your diary now! Further details will follow.
Uniform and clothing donations
If you are planning a spring clean and declutter, would you please look out for any items of preloved school uniform which your child/ren no longer wear? We are running low of stock in our Eco Laundry so any items of school uniform would be gratefully received.
Also, as we are now approaching prom season, if anyone has any dresses, suits, accessories or shoes, we would love to add these to our 'promdrobe'.
Donations can be dropped off at main reception during school opening hours. Many thanks is advance!
Online safety
We have been made aware of an increase in young people accessing the site 'Omegle'. This site allows people to talk to strangers and for explicit and adult content to be shared with no control over receiving this. We continue to ask that you monitor your child's phone/tablet/computer in order to ensure their safety online.
You can find further information about Omegle here.
York Mind and Crossfit Jorvik opportunity
On Wednesday this week, we were delighted to welcome York Mind and Crossfit Jorvik into school to work with eager young males who wanted to take advantage of free sporting opportunities, using Crossfit's gym equipment and access to personal trainers, alongside a chat about young men's mental health, and all free of charge!
The initial session was a roaring success and we do still have places available on this six-week (now five-week) programme for any young males who want to get involved. Please ask your child to speak to Mr Baybutt (he can be found on the mezzanine above the dining hall every break and lunch time) if they want to join this amazing programme. He will then contact you to secure consent.
Please note that this is an initiative led by York Mind focussing specifically on physical activity and mental health wellbeing for young males or those who represent as male. We are in active discussions about securing a similar programme for female, or those who identify as female, students and will advertise this should we be in a position to offer this.
Careers opportunities for students in Years 10 and 11
Building Communities with CITB in Construction
7 March, 6.00-7.30pm
An online event for parents, carers and anyone aged 14-19 interested in a career in construction. Deadline to apply: 26 February.
Zurich Apprenticeships
28 February, 6.30-7.30pm
Find out about a variety of opportunities available through Zurich. This is suitable for students and parents/carers of students in Years 10-13.
Apprenticeships with the Metropolitan Police
21 March, 3.00pm
For anyone who is interested in learning more about the Met's Police Constable Degree Apprenticeship (PCDA) Programme.
Askham Bryan College Open Event
11 March
Year 11 students are encouraged to book online or if you have any questions, please email student.recruitment@askham-bryan.ac.uk
All of the above are also available through the Year 10 and 11 Google Classroom.
Sports practices
The following sports practices are taking place this half-term: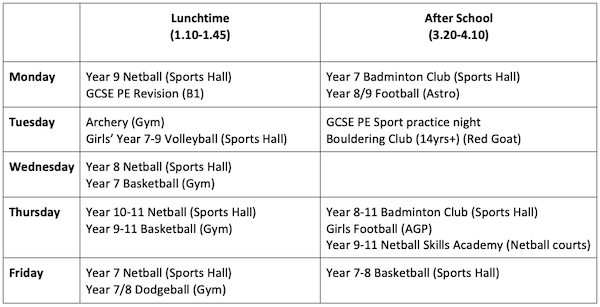 All are welcome to attend, no experience is necessary! The aim is to have fun and enjoy being active and moving.
 
Normal PE/games kit is required and students must have appropriate footwear for their sport eg trainers or football boots. Lunch passes are available and are encouraged. Students should collect them from their teacher.
 
Please note that this rota may change due to matches after school and usually changes each half term.
Managing exam stress – free workshop
The Retreat Clinics are hosting a free workshop for students in Years 10 and above focusing on managing exam stress. The online workshop will take place on 20 April 2023 at 4.00pm and students can register for free here. Further information can be found here.
Door84
Unfortunately, the last Door84 youth session at Clements Hall will take place on Monday 6 March, largely due to the space limitations at the venue. However, alternative sessions will take place at their permanent venue where they offer a full range of activities.
Door 84 youth sessions are open to all children aged 8 years+ on the following days:
Mondays (ages 8 to 17 years) 5:30-7:30pm
Mondays (ages 16 to 25 years) 7:45-9:15pm
Tuesdays (ages 8 to 12 Years) 5:30-7:30pm
Wednesdays (ages 13 to 17 years) 5:30-7:30pm
The sessions run at 84 Lowther Street, The Groves YO31 7LX and cost just £1 per session (in some circumstances free). To find out more please take a look at our February events and March events, or visit https://door84.org.uk/
Door84 also provides a community cafe and food project that runs every Friday from 11.00am-1.00pm. People are welcome to access essential items from the stall as needed. Items generally include dry store food items, nappies, sanitary products, personal hygiene items and household cleaning items. Find out more here.
#WakeUpWednesday
National Online Safety have produced another excellent guide for parents and carers, this time relating to Spotify. Please take a look.
Hollywood Bowl & Puttstars York – new customer offer
Hollywood Bowl and Puttstars have contacted us with a new customer offer. You can receive 50% off your first visit to either bowling or golf and they are happy for you to share the discount within your own social group too. Please find attached the QR codes for both centres. Once scanned, all you need to do is fill in your details to receive the 50% off code.
Safeguarding
If you have significant concerns for the welfare of a child, in addition to being able to contact Mrs Cole or Ms Simpson during school hours by emailing safeguarding@millthorpe.southbank.academy, you may wish to make direct contact with the York MASH (Multi-Agency Safeguarding Hub) on T: 01904 551900, option 3. They operate an out-of-hours service so concerns can be raised with them at any time.