A message from Ms Greenhalgh
I hope you've all had a lovely week enjoying the sunshine! Our students have been putting in a sterling effort as they sit their exams and end of year assessments. Year 11s are almost at the end of their GCSEs with just a couple of papers for some students to sit next week. Students in Years 7 and 8 have completed their assessments and Year 10s are now half way through their pre-public exams (PPEs). Well done to you all for keeping concentration and doing your best in the heat.
This week it was definitely too hot for hot chocolate with the Head, so today those students nominated by their faculty enjoyed an ice cream on the balcony. They are Erin, Queenie, Kiera, Owain, Isla, James, Edward, Ava, James, Maisie, Luke and Deni.
The following Year 10 students were also invited as a 'well done' for completing their Latin GCSE this week: Ursula, Alex, Owen, Poppy, Isla and Arlo .
They have all studied this additional subject over the last two years and will get their results alongside our Year 11 students in the summer.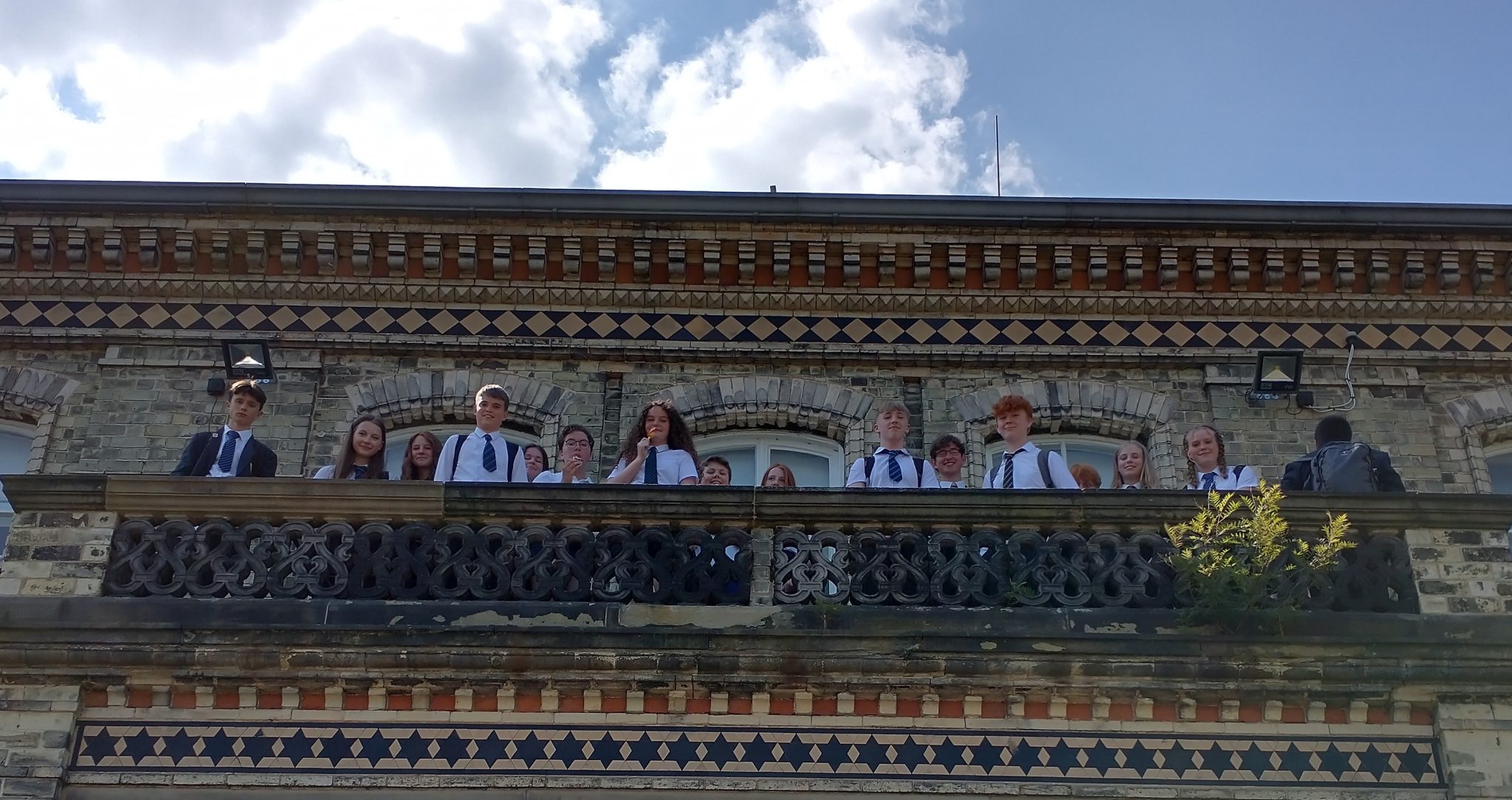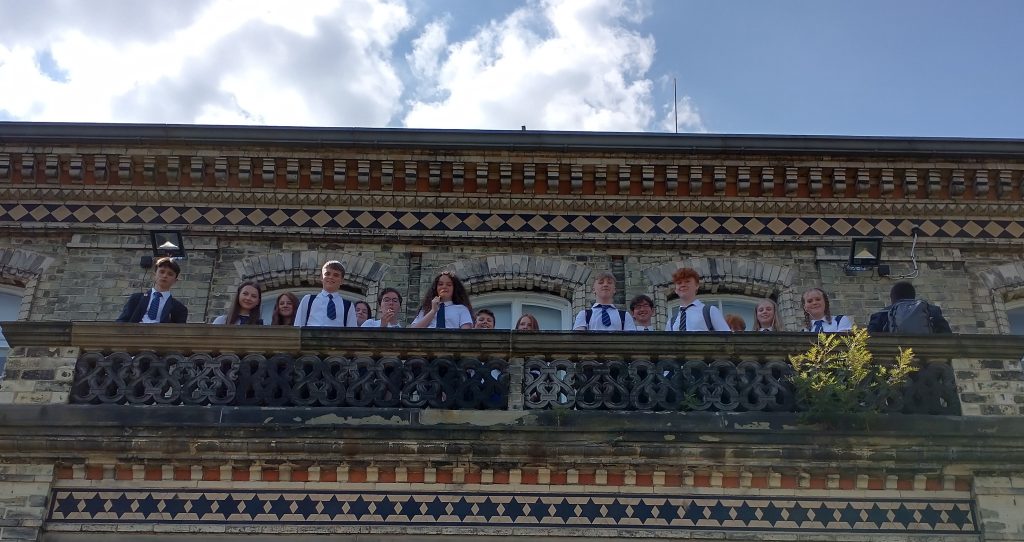 We'll be back on Monday for an 'A' Week. Have a lovely weekend and fingers crossed that the sun keeps shining!
With best wishes,
Gemma Greenhalgh
Headteacher
School day timings
Timings of the school day will return to normal as from Monday 26 June:
8:30: School gates open to students
8:45: All students must be through the outside gates and on the school grounds by this time
8:45 – 8:55: Registration
8:55 – 9:55: Lesson 1
9:55 – 10:55: Lesson 2
10:55 – 11:10: Break
11:10 – 12:10: Lesson 3
12:10 – 13:10: Lesson 4
13:10 – 13:55: Lunch
13:55 – 14:15: Form time/Assemblies
14:15 – 15:15: Lesson 5
15:15: The school day ends
Deputy Head of Year 7
Please note that Ms V Simonovik, Deputy Head of Year 7 is now Mrs V Pennington. Should you need to contact her, her new email address is v.pennington@millthorpe.southbank.academy
Refugee Week and Countering Hate Speech
Assemblies have focussed on Refugee Week and Countering Hate Speech as next week is Refugee Week. This is a festival celebrating the contributions, creativity and resilience of refugees and people seeking sanctuary.
Mr Baybutt delivered the assemblies explaining why people become refugees, and encouraging students to develop their skills of empathy by putting themselves in the position of a refugee. The students were able to quickly appreciate that if they were faced with the hardship that refugees face, they would take the same action. In the photos below, you can see Year 7 students listening intently.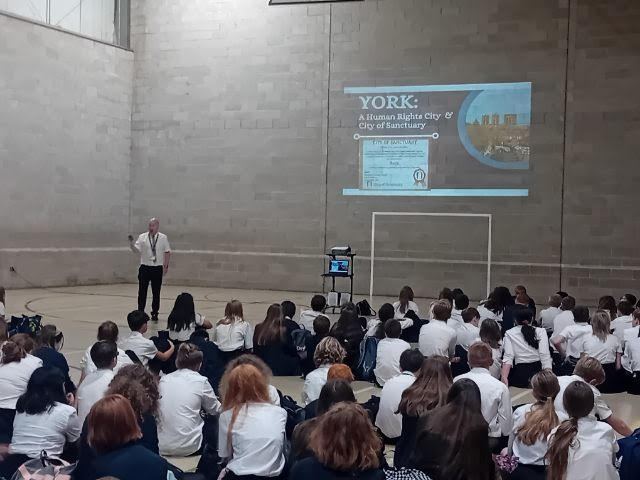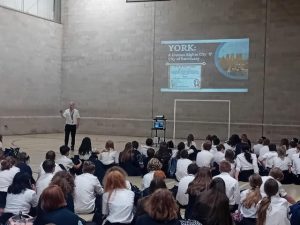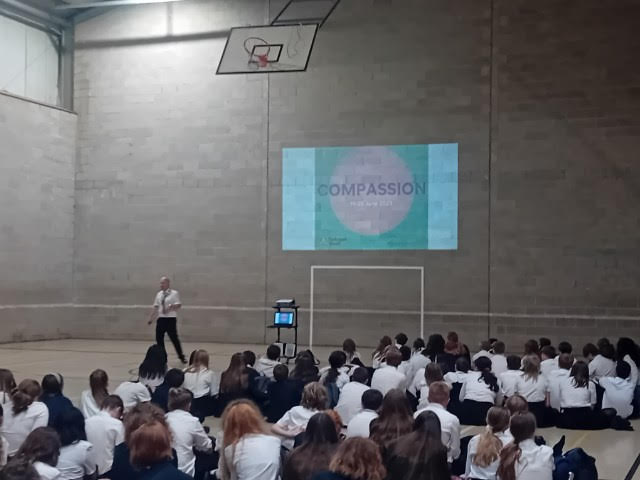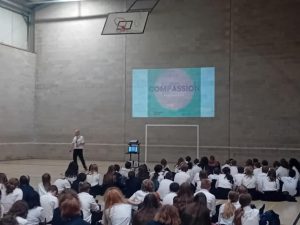 Next week also includes the International Day for Countering Hate Speech, so students were asked to be mindful of their language and ensure that they also speak to others in a respectful and responsible way: qualities that align perfectly with our mission.
Students and families are also invited to run the York 10k in August and raise funds for Refugee Action York; more details are available on the attached poster.
THC vapes
We have been informed by the police that there has been an increase in the prevalence of vape oil being used which contains THC (Tetrahydrocannabinol). This is being used by some young people in the city.
If you are concerned about any young person or adult who may be using illegal substances, Public Health England have advised that appropriate advice and guidance can be gained from Drink Drug Hub – North Yorkshire Horizons.
York and District Athletics semi-final results
A massive well done to the 40 students who represented the school on Wednesday night in the York and District semi finals at York University. It was an absolute pleasure to see our students competing against some of the best athletes from the district. We were blessed with some great weather which made the event even more special. Pictured below are just some of our competitors.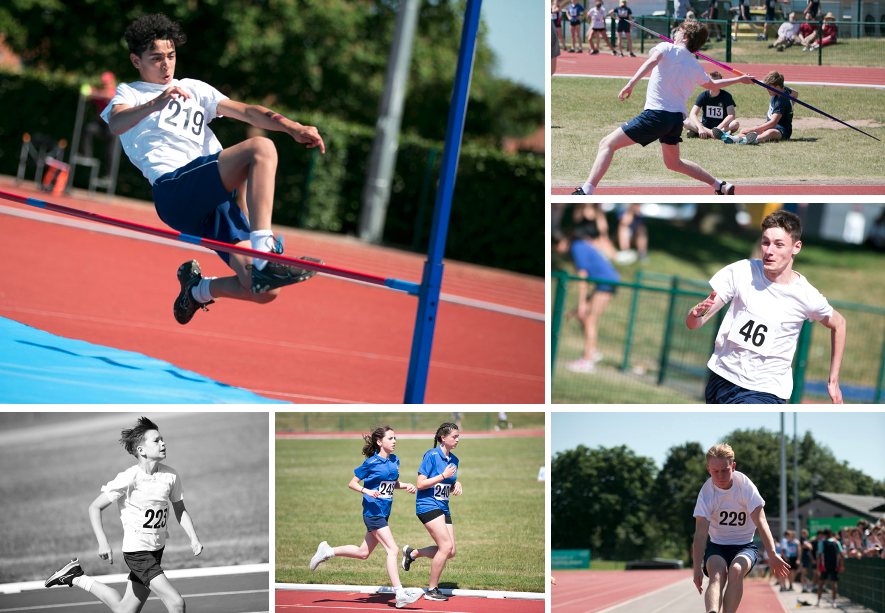 Our qualifiers for the finals, to be held on Tuesday 27 June, are as follows:
Zoe Bind (Y9), 100m, 14.9 secs, 3rd
Sophie Norton (Y7), 100m, 15.9 secs, 2nd
Juliette Macquin-Jones (Y7), 200m, 28.4 secs, 1st
Jem Campbell (Y10), 100m, 12.6 secs, 2nd
Dylan Blaker-Pugh (Y9), 100m, 13.4 secs, 3rd
Joe Martell (Y10), 200m, 27.2 secs, 3rd
Rowan Whittaker (Y9), 300m, 37.2 secs, 1st
Boys Year 9 4 x 100m, 53.1 secs, 3rd
Girls Year 10 4 x 100m, 61.0 secs, 3rd
10 Boys Year 10 4 x 100m, 51.6 secs, 3rd
Oscar Smith (Y10), Javelin, 31.52m, 1st
Zoe Bind (Y9), Shot Put, 7.36m, 2nd
Rowan Whittaker (Y9), High Jump, 1.55m, 1st
Will Muskett (Y9), High Jump, 1.50m, 2nd
Oliver Rogers (Y8), Javelin, 20.85m, 3rd
Milo Metcalfe (Y8), Shot Put, 7.99m, 3rd
Isla Forsdyke (Y10), Discus, 14.6m, 3rd
Theo Clark (Y9), Long Jump, 4.80m, 2nd
Ralph Smith (Y10), 800m, 2min 19 secs, 2nd
Theo Clark (Y9), 800m, 2min 19 secs, 1st
21 Leo Forsdyke (Y7), 800m, 2min 35 secs, 1st
22. Ewan Waddington (Y9), 1500m, 5min 02 secs, 2nd
23. Jack Cahill (Y7), 1200m, 4min 16 secs ,1st
24. Josie Cook (Y7), 1200m, 4 min 47 secs, 3rd
Huge congratulations also go to to six of our semi-finalists who not only qualified but also broke the school athletics records for their events. Their names will now appear on the Millthorpe School Athletics Hall of Fame.
Rowan Whittaker smashed the Year 9 300m record, running a time of 37.2 seconds beating the record by a full second.
Oscar Smith broke the Year 10 javelin record (which has stood for 15 years) by throwing 31.52m.
Leo Forsdyke broke the Year 7 800m record with a time of 2 min 35 secs.
Jack Cahill set the fastest time for the Year 7 1200m, running it in 4 min 47 seconds.
Juliette Macquin-Jones broke the Year 7 200m record by 0.5 seconds, running a time of 28.4 seconds.
Josie Cook set the fastest time for the Year 7 1200m, finishing in 4 min 47 seconds.
Well done to all that took part. We look forward to finals!
Mr Boothman and the PE team
Athletics success for Adam and Rowan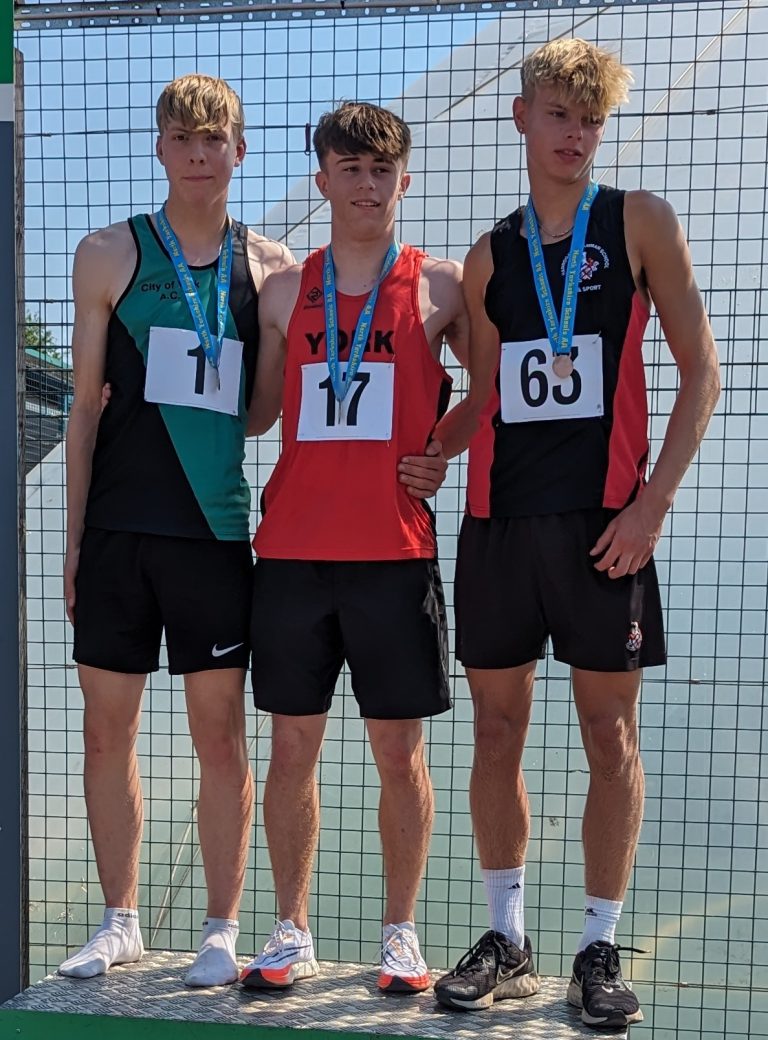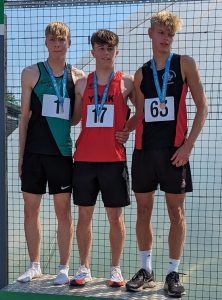 Congratulations to Adam Quinn (Year 11)  and Rowan Whittaker (Year 9) who competed in the North Yorkshire Schools Athletics competition last weekend.
Both boys did outstandingly well against the best athletes in the county.
Adam won the 100m in a time of 11.5 seconds. He also won the long jump with a distance of 5m 87cm.
Rowan won the 300m and set a new county record running a time of 37.00 seconds. He also finished 3rd in the High Jump and the Shot Put.
Both boys will head to Gateshead to compete in the Inter Counties next Saturday. We wish them all the very best!
Adam (number 17) is pictured above and Rowan below.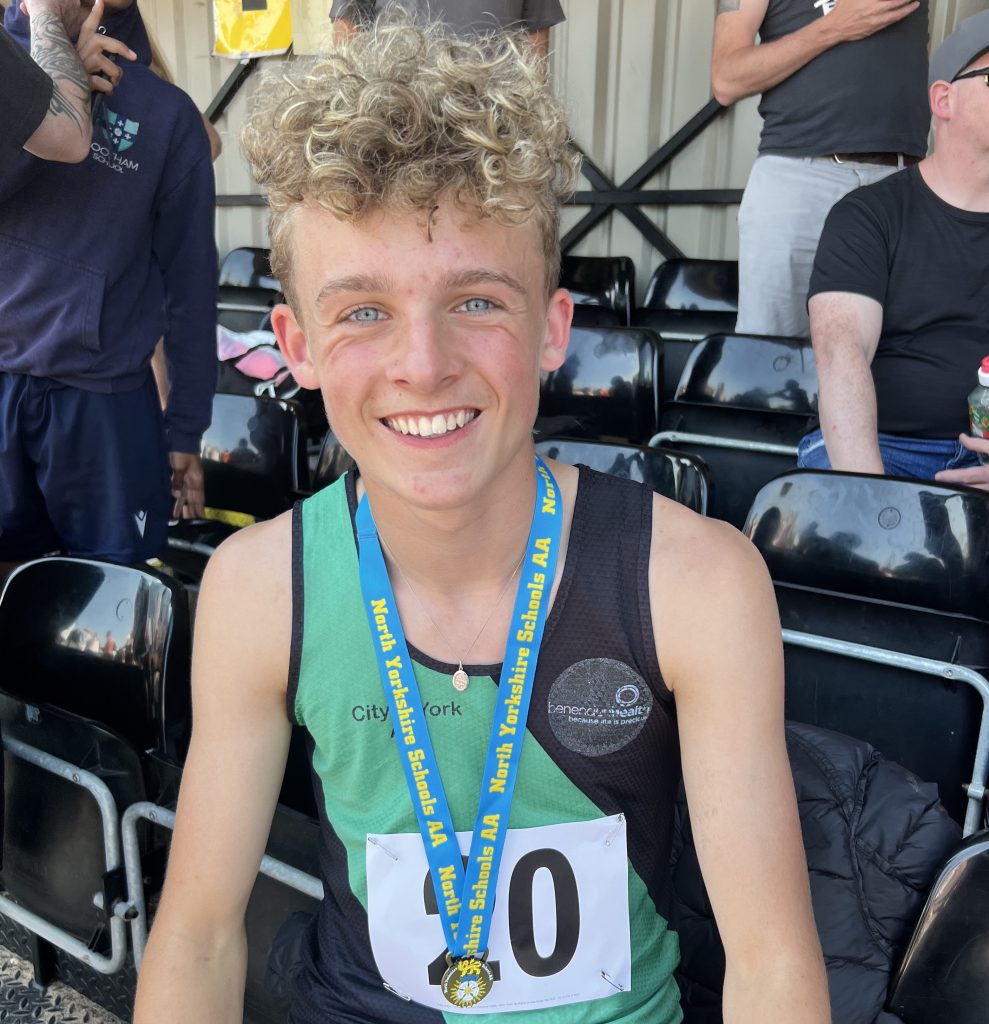 Cricket successes
Two of our students are enjoying success on the cricket pitch this summer.
Alex Garner-Steel in Year 11 is playing for The Yorkshire County Cricket Club against Durham on 18 June, Northumberland on 28 June and Cleveland on 18/19 July.
Meanwhile, Year 7 student, Oliver Craven (pictured) has been selected for the York and District U12 cricket team.
Amazing news Oliver, well done!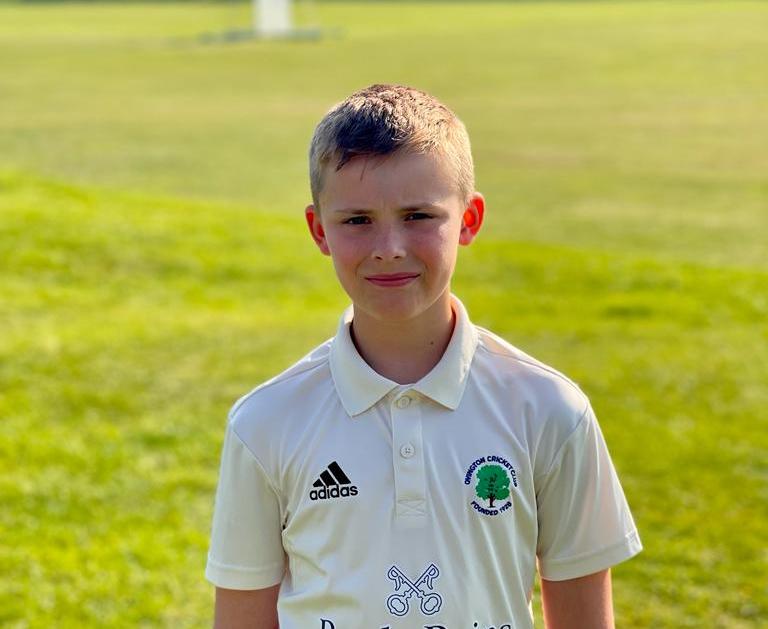 Maths news
Well done to students in Years 7, 8 and 9 who have been completing end of year assessments – we know that you'll have done your best. Good luck to Year 10 who are sitting their maths exams next week. A topic list is on your Google Classroom, which has links to revision resources. It is non-calculator but you may need a protractor and pair of compasses.
And here's a 'watery' problem to entertain you over the (hopefully) dry weekend…
The cold tap in my bath lets the water in at the rate of 15 litres per minute.
The hot tap fills the bath at the rate of 10 litres per minute.
The plug hole lets the water out of the bath at the rate of 12 litres per minute.
The bath holds a maximum of 520 litres.
I turn both taps on, but forget to put the plug in. How many minutes does it take for the bath to overflow?
York ISSP Summer Schools
York ISSP are running the following summer schools for students in Years 7 and 8:
Writing for the Future
 – aimed at keen Year 7/8 English students who have an interest in reading or creative writing.
Myths and Machines
 – this will be of interest to those who enjoy a whole range of subjects but especially STEM, History and Greek Myths. Students will take part in a wide variety of exciting activities during the week.
These are great opportunities for our students to attend what are normally over-subscribed workshops and have a brilliant week. If students are on free school means or pupil premium, we may be able to provide financial support.
The summer schools run from 
Tuesday 25 July to Friday 28 July
 at Manor CE Academy for five hours each day and at a cost of £130 per child. Interested students should contact ISSP by email: 
york.issp@gmail.com
 for more information or 
complete the online form
.
Helping grieving students cope with Father's Day
For children and young people whose dad has died, Father's Day can be a difficult day. It doesn't matter whether it's their first Father's Day after dad died or it has been many years.
Winston's Wish, a charity that helps children, teenagers and young adults with grief, has published some advice from young people who have lost their fathers on ways to cope on Father's Day. Take a look here.
Apprenticeship opportunity at Hays Travel
Hays Travel is currently recruiting for an apprentice Travel Consultant in a number of their retail branches in the local area.
Further information can be found here: Apprenticeships – Hays Travel Careers
Getting Sorted event at York College
York College is holding a Getting Sorted event which is aimed at current Year 11s who are planning to start York College in September. The event will be held on 2 August. Further information can be found here.
#WakeUpWednesday – A guide to Money Muling
This week's excellent guide from National Online Safety explains a relatively new tactic being used by organised crime gangs to essentially launder money using unsuspecting victims, often children. This is obviously very concerning, so please take a look and discuss this with your child(ren).
Safeguarding
If you have significant concerns for the welfare of a child, in addition to being able to contact Mrs Cole, Mrs Cooper or Mr Beever during school hours by emailing safeguarding@millthorpe.southbank.academy, you may wish to make direct contact with the York MASH (Multi-Agency Safeguarding Hub) on T: 01904 551900, option 3. They operate an out-of-hours service so concerns can be raised with them at any time.