A message from Ms Greenhalgh
We've enjoyed another lovely week at Millthorpe and it has been particularly great to see so many students taking advantage of our extra-curricular clubs and activities. There really is something for everyone, so please encourage your child to have a look at what is on offer.
Rehearsals are already underway for our school production, 'Elf', which will take to the stage on 18, 19 and 20 December. Please save the date in your diaries if you would like to come along. Those involved in the production should keep an eye out for rehearsal news and updates on the Google Classroom which Mrs Sladen has set up please.
Many thanks to those parents/carers of Year 7 pupils who came to the SEND Information Evening yesterday. It was great to see so many people there and to put faces to names. We're all looking forward to working with you over the next few years. Anyone who missed it and has any questions, please contact the SEND Team.
Next Thursday evening, we will be holding our annual Open Evening for Year 6 children and their families. We're very much looking forward to welcoming our next cohort of students into school. You can find further information about the Open Evening below.
Congratulations to those students who were nominated by their faculty to have hot chocolate with me earlier today. (It's hard to believe we were enjoying ice lollies in the sunshine just a week ago!) A huge well done to Jenna, William, Ellen, Sophia, Sonny, George, Zlata, Georgia, Olivia and Freddie.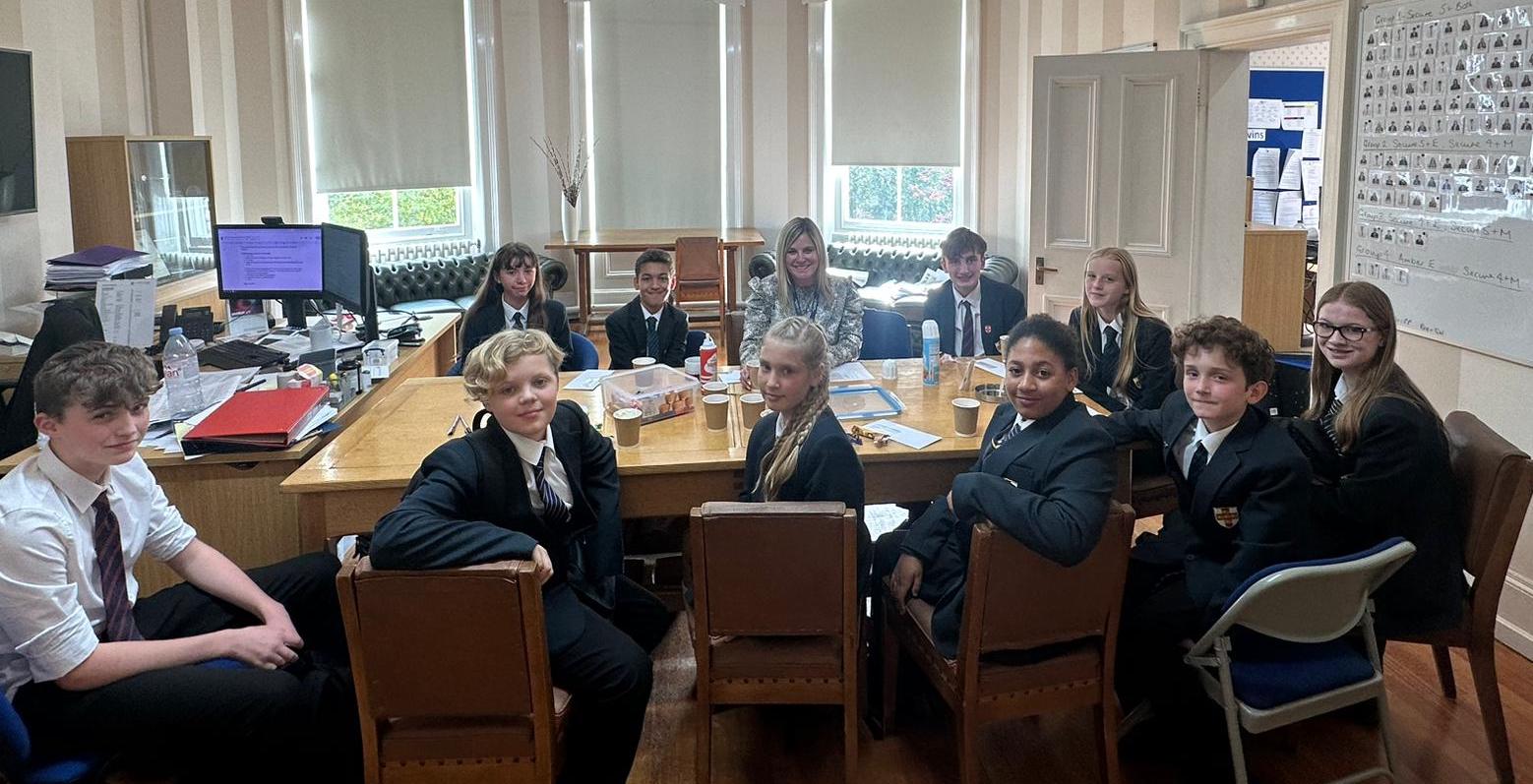 And as always, well done to all those who received a Golden Ticket this week – keep up the great work!
Wishing you all a very happy weekend and I'll look forward to seeing everyone back on Monday for a 'B' week.
With best wishes,
Gemma Greenhalgh
Headteacher
Sparx Maths
The Maths department will be using a new platform called Sparx for homework this academic year. Please find attached information about what to expect from Sparx and how to support your child with their maths homework.
Year 11 Information Evening
Parens/carers of Year 11 students should have received a letter inviting them to our Year 11 Information Evening on Wednesday 4 October. The full letter can be seen here, together with a link to the booking form.
Lost property
We have an ever-growing collection of lost property in the school office. Please encourage your child(ren) to come and claim anything they have lost.
Anything which has not been claimed by Friday 29 September, will be donated to our Eco Laundry.
Open Evening
Our annual open evening is always a lot of fun, giving Year 6 pupils and their families the chance to see our community in action and to understand our culture and ethos, and experience the characteristic warmth that makes Millthorpe School so distinctive.
This year's event will be held on Thursday 28 September, from 6.00 – 8.00pm.
We'd love to see you there – there's no need to book, and all are welcome!
LAMDA drama classes
LAMDA (London Academy of Dramatic Art) drama classes take place after school on Thursdays. If anyone in Year 7 or other year groups is interested in joining our class then we have a few spaces up for grabs.
Please email tonymarkthomas123@gmail.com for further information.
MIND sessions
MIND have offered to come in to school to provide a Drama and Mental Health group for male students and students who identify as male.
The MIND sessions will offer: 
A safe and confidential space to explore the things that matter to them through improvisation or drama games.
A safe and creative space to discuss a young person's mental health, using drama and improvisation as the medium and tool.
Hour-long sessions will consist of drama games and improvisation exercises but the content will be mental health, where to get help and how to ask for it.
What better way to explore and discuss a young person's mental health, than through drama?
Testimonial
"During the York Mind Drama sessions the students socialised with others that they might not have usually met in school. The safe space enabled them to talk about mental health and their own experiences without pressure or prejudice, whilst having fun and being creative. They played games, role played and had honest and open conversations. It was a really valuable experience."
If you are interested in your child attending these sessions, please email Mrs Cole.
#WakeUpWednesday – A parent and carer guide to WhatsApp
We know that WhatsApp is a very popular "group chat" platform for many people, including adults. We know that many of our students use WhatsApp and whilst it could be a good way for them to stay in touch with friends, we also know that sometimes, it can lead to issues that we are asked to deal with. This is despite our clear policy that students must not use mobile phones at any time during the school day and the age restriction on WhatsApp in the UK being 16.
This guide from National Online Safety
 is therefore really handy, in our opinion, for all parents and carers and we hope this helps you in having a discussion with your child about their use of this platform, if they are using it.
Safeguarding
If you have significant concerns for the welfare of a child, in addition to being able to contact Mrs Cole, Mrs Cooper or Mr Beever during school hours by emailing safeguarding@millthorpe.southbank.academy, you may wish to make direct contact with the York MASH (Multi-Agency Safeguarding Hub) on T: 01904 551900, option 3. They operate an out-of-hours service so concerns can be raised with them at any time.