A message from Ms Greenhalgh
I want to start this week by saying a huge well done to all those who have been awarded a golden ticket this week – it's wonderful to see so many of you on this week's list (see below)! A special mention goes to Alfie Henderson and Benjamin Barton in Year 7 who have shown such wonderful community spirit at lunchtimes picking up litter around our school site. They are true eco warriors who demonstrate our values of 'responsible' and 'respectful' perfectly. Well done boys and thanks to you both.
Well done also to those students nominated by their faculty this week. I enjoyed a hot chocolate and sweet treat earlier today and had a great chat about school life with Summer-Mae, Eve, Meg, Jessica, Faith and Alfie.
Thank you to everyone who came along to the Year 11 information evening on Wednesday. It was lovely to see so many students and parents/carers at the event. We're now looking forward to our Year 11 parents' evening which will take place on Wednesday 18 October. Further information and details of how to book your appointments will be sent out early next week.
Please do have a read of today's email – it's quite a long one, but there's lots of information to share! Also, just a reminder to follow us on our social media channels if you don't already – you can find us on Twitter/X, Facebook and Instagram.
Wishing you all a very happy weekend and I'll look forward to seeing everyone back on Monday for a 'B' week.
With best wishes,
Gemma Greenhalgh
Headteacher
Attendance update
Many of you will be aware of the national focus on school attendance currently. We have a legal responsibility to manage attendance effectively and we also recognise the impact of low attendance on learning and social development. Our aim therefore is to make sure that students attend school whenever it is possible for them to do so.
The attached letter sets out in more detail some of the context for schools generally, our approach to attendance here at Millthorpe and the rationale behind it. We are sharing this because we want to be open about what we are doing and why, as well as recognising that progress in this area very much relies on the support of parents and families.
Seneca – online homework platform
We are aware that a small number of students/parents/carers are having difficulty logging into their Seneca accounts, which is making it tricky for them when they are set homework on this platform.
The key issues seem to be:
The student is not logging in with their school email address, but a personal one. It must be their school email address ending in @millthorpe.southbank.academy
Parents and carers logging in using an email address which is different to the one that we hold on our system. Parents/carers should log in using the same email address as the one school holds.
Seneca have provided some handy guides for parents/carers. Please find: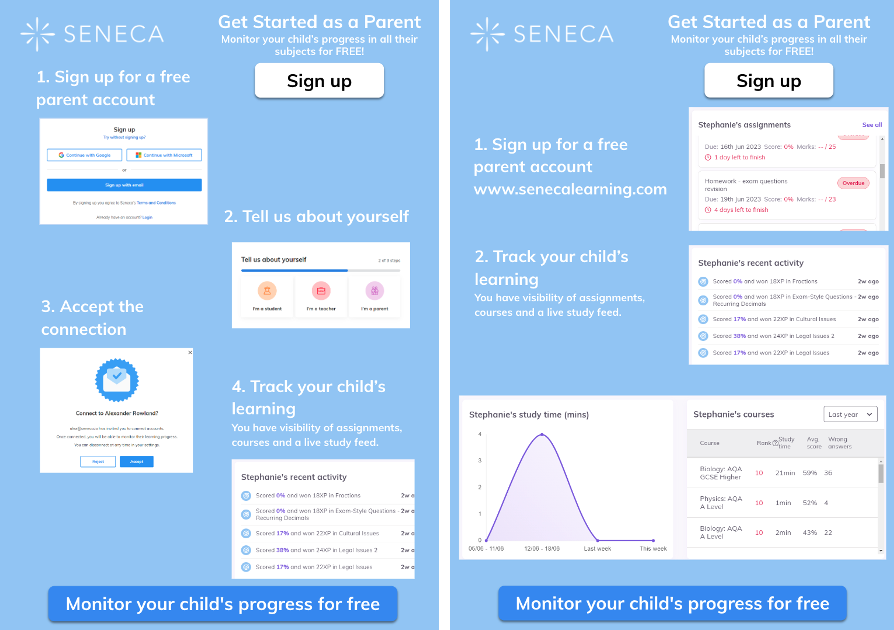 If you have any questions about how Seneca works, you can get support from the Seneca team using the live chat on their website or you can email them at learnmore@seneca.io
Year 11 information evening
Thank you to all those families who came along to our Year 11 information evening earlier this week. It was great to see such a good turnout. If you missed the session or would just like to take another look at the presentation from the evening, you can see it here.
We appreciate your support as your child(ren) navigates their way through Year 11. By working together we can support our students to be the best they can be. If you have any queries or concerns, please don't hesitate to contact your child's form tutor in the first instance.
Careers programme – highlighting qualification options
As part of our careers programme, we have highlighted to students a relatively new qualification that students may wish to consider when they are thinking about their choice post Millthorpe.
T Levels were introduced in 2020 and are more technical-based qualifications that are equivalent to three A Levels. They have been developed with input from employers and businesses to address the needs of industry and also helps students develop more work-based related skills. They are two-year courses for 16-18 years olds.
Students have a link in their Google Classroom (careers section) which will take them to this website, telling them more about what T Levels offer.
Year 10 boys football team win nail-biting match
Well done to the Year 10 boys football team who beat St John Fisher of Harrogate in the North Yorkshire Cup earlier this week.
It was an incredibly tense game, although Millthorpe had the best of the chances throughout. Rowan Whittaker scored to give Millthorpe a 1-0 lead, only to then concede from a free kick.
Going into extra time, the team did everything they could to score but with their opponents defending well, it seemed impossible! With penalties to decide the fixture it was far from straightforward with Millthorpe missing a sudden death penalty, only for goalkeeper Freddie Hay to pull out a brilliant save to keep Millthorpe in the match. At 8-7 to Millthorpe, Freddie then won the match for the team, with another save. The well-deserved celebrations began and continued on the journey home – the singing on the bus was memorable!
An awesome performance boys! Bring on the next round!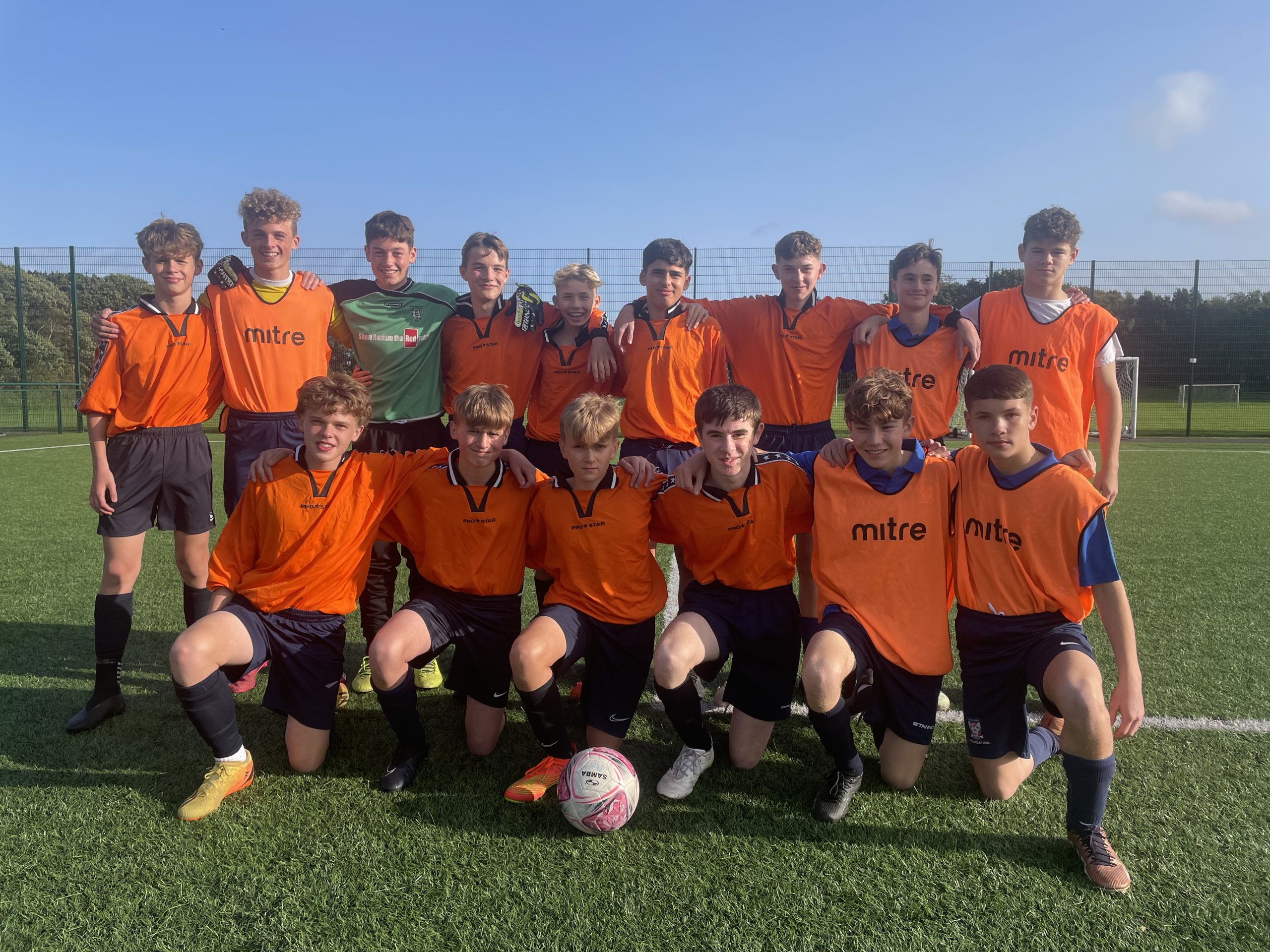 Shirt sponsor wanted!
We are looking for a local business to sponsor our school football teams' kit for matches against other schools. At the moment they have to play in makeshift kit or bibs.
We would love to hear from any local businesses that would be willing to help us get them a proper Millthorpe kit they can be proud to wear. This is a great opportunity to promote your company across the city and beyond, including via social media coverage.
For more details or if you are interested, please contact Alex Collins, School Business Manager on a.collins@millthorpe.southbank.academy
PE – a message from Mr Boothman
Changes to Key Stage 3 PE
We have reached the end of our first blocks of sport and therefore from Monday the children will be moving onto their next sport. This will potentially require a change in PE kit/footwear/venue in which to get changed. Please see the programmes below to see what sport your child will be doing and where they should get changed.
Your child's PE teacher will have instructed the students on the necessary changes in their last lesson this week, and all of the information is displayed in form rooms and the PE office.
Participation in PE
Thank you for your continued support in sending your children into school fully equipped for their PE lessons. Participation has been excellent. Our expectation remains that all students regardless of injury and/or illness get changed to take an active role within the lesson, whether this is as an official, a coach, a motivator, a technician or a manager. Students will always be able to engage in the learning even if it is not in an active capacity.
Extra-curricular activities
We will continue to offer the same programme of extra-curricular activities at this time with no changes to our offer of lunchtime and after school clubs. A reminder that all students are welcome to all practices and we look forward to seeing them take part in more sporting opportunities. Basketball will commence soon for those interested in playing this indoor sport.
Thank you.
Mr Boothman, Subject Lead for PE
Change to sports practices
Dodgeball, which takes place on a Thursday lunchtime, was incorrectly advertised in a previous weekly email as being for Year 8 students. It is actually for students in Years 10 and 11. Apologies for any inconvenience.
A full list of sports practices can be found here.
Speedkix team-building event for Year 7 students
Year 7 parents/carers should have received a letter about a team-building session with Speedkixtaking place on Wednesday 11 October. The session will cover a number of activities including Zorbing, NERF, Speedkix Football Challenge, Soft Archery, Frisbee, Golf and Dodgeball. Your child will need to wear their PE kit for the whole day.
Further information can be found here.
SEND Review meetings
We will be holding virtual SEND Review meetings on Wednesday 22 and Thursday 23 November – please save the dates in your diaries.
During the virtual meeting, you will have the chance to discuss your child's SEND needs and the strategies in place to support them. The video call will last 15 minutes and will be conducted with either Mrs Norman, SENCo, one of our SEND Leads or Mrs Armitage, Deputy Headteacher for Inclusion.
The main goal of this event is to review your child's SEND provision within the school, focusing on their student passport. and setting targets for next term. We will jointly assess any existing plans or interventions currently in progress. To learn more about student passports, please visit our school website at: https://millthorpeschool.co.uk/send-provision/
If you ever need to get in contact with the SEND department please contact us at any time at send@millthorpe.southbank.academy
Elf the Musical rehearsals
Next week's rehearsals are as follows:
Monday 9 October, 3.15 – 4.15pm – Mrs Gillespie needs the full cast (minus the dancers) for a singing rehearsal in her room.
Monday 9 October, 3.30-4.30pm – Mrs Sladen needs all dancers please.
Tuesday 10 October, 3.30 – 4.30pm – Santa, Buddy and all of the elves are needed please to go through 'Happy All the Time' and the rest of the opening scene before Buddy leaves to go to New York.
Thursday 12 October – no rehearsal as Mrs Sladen is on a theatre trip in the evening with GCSE Drama students.
Ski Trip 2024 – message from Mr Boothman
A small number of places have become available on the Ski Trip to Austria in the first week of the Easter holidays next year. You will recall that the trip was first advertised in July (see attached letter for full details) and is open to students currently in Years 8, 9 and 10. Please contact me or the school office for more details.
Whilst the visit is initially aimed at older year groups, we would consider students from Year 7 if they have experience of skiing abroad. For Year 7s in particular, attending the trip as part of a friendship group would be advantageous.
Opportunities Event for young people with SEND
An Opportunities Event for young people with SEND in Years 10+ will take place at Askham Bryan College's Conference Centre on Wednesday 25 October 2023 between 3.30-6.30pm. The event is aimed at students and their parents and carers residing in York, Leeds and North Yorkshire. You can drop in any time.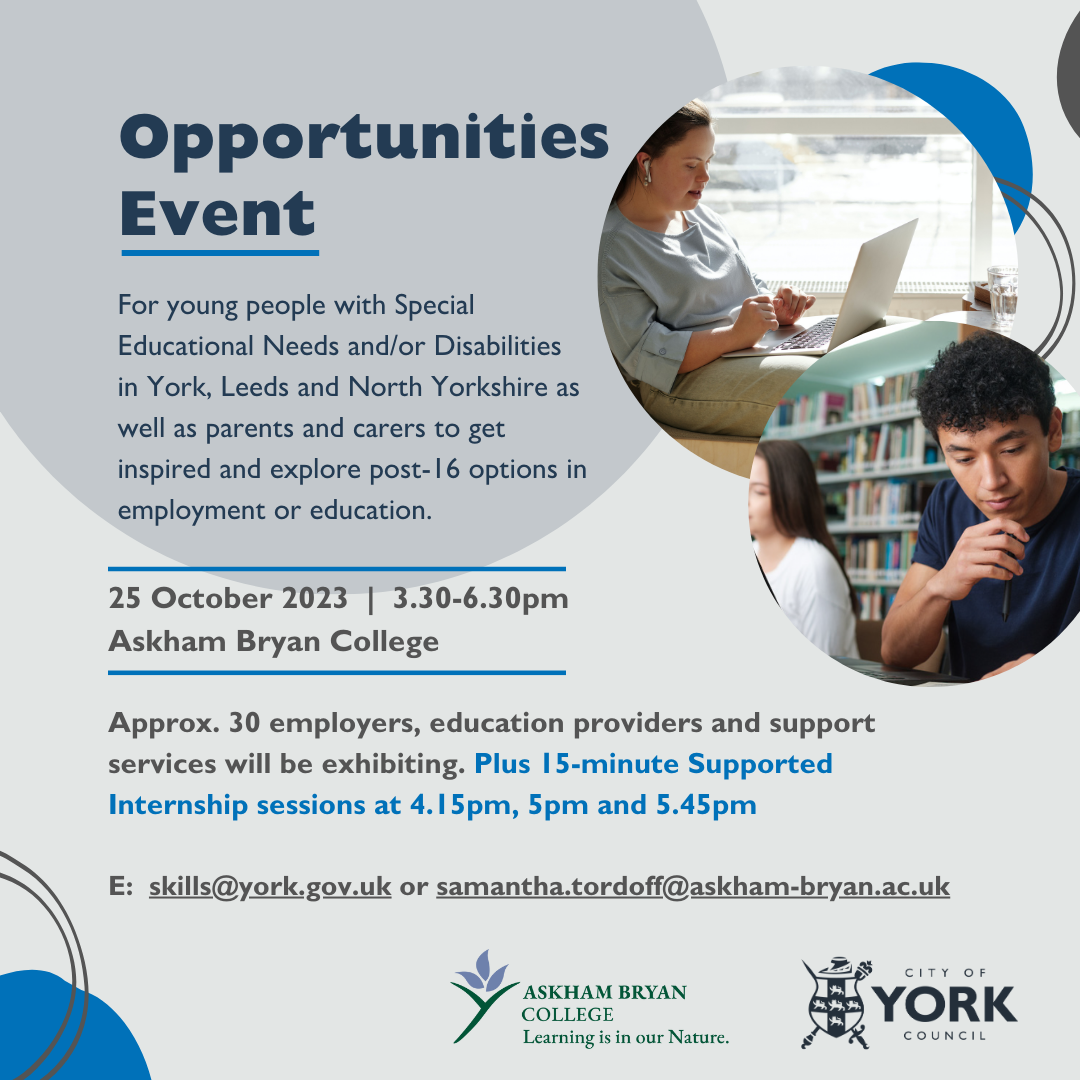 Support for parents/carers from the Specialist Teaching Team for autism support
Please see the attached flyer for details of the support available to parents/carers this term through the City of York Council's Specialist Teaching Team for autism support.
#WakeUpWednesday – a guide to 'Among Us'
'Among Us' is a social deduction game set in outer space and is hugely popular, with 60 million global users each month. Its focus is around danger, disguise and deception, and there are several things for parents/carers to be wary of, and to discuss with their child, if they are using it. Please take a look at this handy guide.
Safeguarding
If you have significant concerns for the welfare of a child, in addition to being able to contact Mrs Cole, Mrs Cooper or Mr Beever during school hours by emailing safeguarding@millthorpe.southbank.academy, you may wish to make direct contact with the York MASH (Multi-Agency Safeguarding Hub) on T: 01904 551900, option 3. They operate an out-of-hours service so concerns can be raised with them at any time.