A new initiative called Millthorpe Allies has launched at school this term. The scheme, which is the brainchild of Miss Richards, encourages staff to be a visible ally for students who either identify as LGBTQIA+, who feel they need support with LGBTQIA+ issues or simply need someone to talk to.
By choosing to wear a rainbow Millthorpe badge and signing up to Millthorpe Allies, staff show students and the wider community that they are happy to talk about LGBTQIA+ issues.
All staff who choose to take part in the initiative will take a pledge and make a commitment to promote inclusion by using inclusive language in all discussions; affirm the identity that a person chooses to use; and assuring confidentiality where appropriate.
Whilst the Millthorpe Allies are not expected to have all the answers or be able to solve all problems, they will definitely be there to listen and signpost support where it is needed.
Many staff have already pledged their support for the scheme – here are just a few of the reasons they wanted to be involved: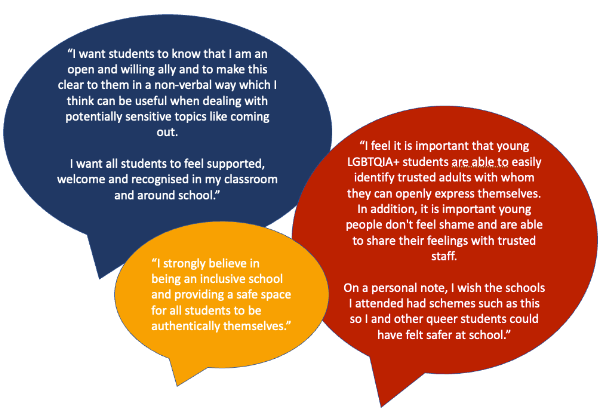 When asked about where the idea for the scheme came from, Miss Richards said "I was inspired by the NHS rainbow badge scheme and wanted to develop something similar at Millthorpe. I know what it's like to go through school feeling alone and isolated as until I was in Year 9, Section 28 was still at play. Even then, the after-effects were such that no one ever discussed LGBTQIA+ topics as I moved through Years 10, 11, 12 and 13. It's important that people are allowed a safe space to freely express who they are. I hope that this scheme helps students feel safe and secure about exploring parts of their identity whilst at Millthorpe."