A message from Ms Greenhalgh
I hope you have all had a good week and managed to stay warm and dry today!
Thank you to all those parents/carers who came along to Parents Evening earlier this week. In this really important year for your child(ren) it was great to see so many people there. I would also like to thank colleagues from our local post-16 providers who came along to talk to our students about their options after they leave school.
A few reminders from me:
We are very proud of our students and would love to celebrate their achievements and good deeds within our wider community, so if your child has done something you, or they, are proud of, perhaps raised money for charity, achieved sporting success, starred in a show, shown kindness to others or something else, please let us know. Just email news@millthorpe.southbank.academy with a few details and ideally a photo or two, and we can do the rest!
Please do take a minute to follow us on our social media accounts so that you can keep up to date with news and announcements – you can find us on Twitter/X, Facebook and Instagram.
If you, a friend or a member of your family used to attend Millthorpe or our predecessor, Nunthorpe School, we'd love to hear about your career to date. You can fill in this quick online form to tell use about your journey since leaving school.
This week's shout out to students nominated by their faculty to have hot chocolate with me and Mrs Cooper, Head of Year 7, goes to Isla, Beba, Freya, Arabel, Bradley, Nik, Zlata, Callum, Jessie and Tommy. A special mention goes to Zacariah who was nominated twice for Maths and Computing. It was great to chat with them all.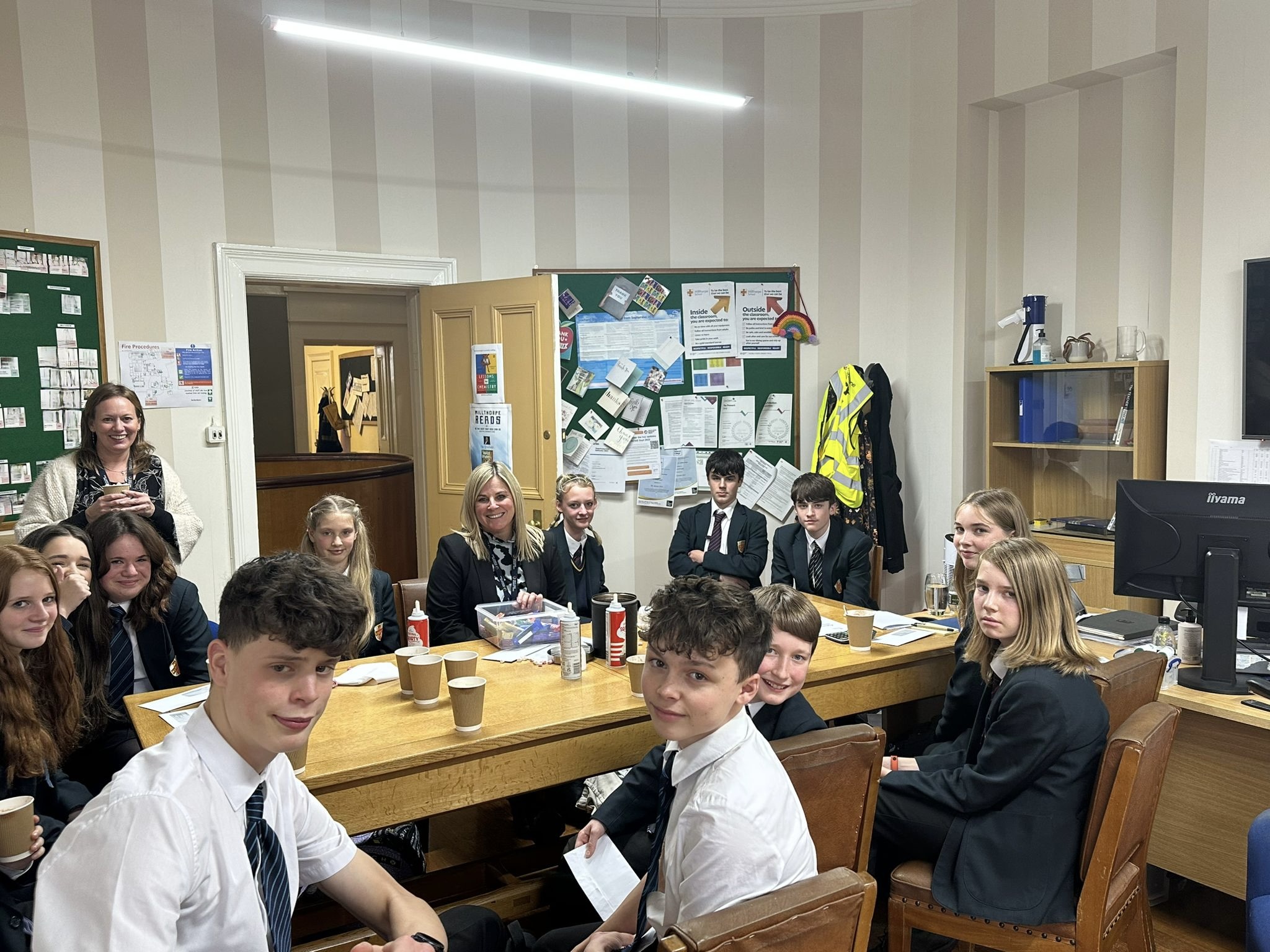 We've got just one more week of half term left, so let's make it a good one! Wishing you all a lovely weekend and I'll look forward to seeing everyone back on Monday for a 'B' week.
With best wishes,
Gemma Greenhalgh
Headteacher
Winter break/lunchtime arrangements
Winter break/lunchtime arrangements will begin after the half term break. This mainly involves students moving from the grass field, which becomes too muddy to use at this time of year, to the hard standing at the back of the Main Hall. The picnic benches will be moved across to accommodate them. Full details will be shared with students during form time.
At lunchtimes, students can also use the AGP according to the rota or attend one of the many extra curricular clubs on offer.
Security of external doors
Now that most students, including Year 7, have been enrolled onto the biometric door entry system, we will be able to improve security during the school day by keeping external doors locked during lesson time. This is a preventative measure to reduce the risk from intruders and uninvited visitors. Whilst such incidents are thankfully rare, we aim to take any reasonable steps available.
As you will recall from previous letters, students rarely need to use external doors during lessons, but if they do, all doors can be opened as normal from the inside and using a thumb/finger on the sensor from the outside. Alternative arrangements will be in place for students who do not wish to enrol on the biometric system.
If you have not yet provided your consent (or told us that you do not wish your child to be included) we will contact you directly over the next few days.
Millthorpe Remembers 2023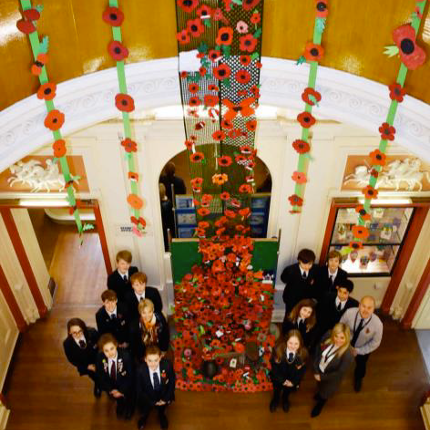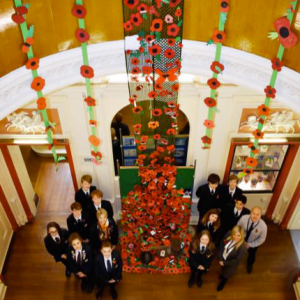 On the centenary anniversary of the end of the First World War in 2018, Millthorpe School students, staff and parents were asked to make and dedicate a poppy to a serviceperson who paid the ultimate sacrifice. The response was amazing, and we were able to produce a breath-taking display of poppies.
Sadly, the display was lost amongst the challenges of the last few years, so last year we put a call out to all of our students, staff, and parents/carers to ask them to make a poppy so that we could rebuild this magnificent display and ensure that Millthorpe School "Never forgets."
The response last year was remarkable, but we want to build on it further this year. We are therefore asking for all of you to make a poppy (or another one if you already have done so previously).
For full details about how you can take part and how you can dedicate your poppy to a fallen serviceperson, please click here.
Year 11 Pre-public exams (PPEs)
Year 11 student will sit their PPEs from Monday 6 November to Friday 24 November. You can see the exam timetable here.
Year 11 taster days
A reminder that as part of students' preparation for post-16 education, schools and colleges offer the opportunity to attend their institutions for a day to get an idea of what a 'day in the life' would be like. The taster days are being held on Tuesday 16 January and Thursday 18 January. As all students must be in education up to the age of 18, this is a wonderful opportunity to help them make an informed choice for the next two years that is right for them.
This link takes you to a guide outlining the opportunities available
. Students can apply for two taster days. Details on how to apply are on the form, including links to the application forms. If you have any questions at all about it, please encourage your child to ask their form tutor or to find Miss Watts. Students shouldn't leave it too late to apply. There are deadlines, and the schools and colleges stick to them.
Please note, if your child doesn't apply for a taster day, or only applies for one day, the expectation is that they must come into school.
Year 11 Prom 2024
A date for your diaries in case you are planning early summer holidays once your child has finished their GCSEs…the Year 11 Prom will be held at York Racecourse on Friday 5 July 2024. More details will follow in due course. We have only secured the venue for now so we will be in touch with more information later in the year.
Online support for parents and students
We have recently launched Padlet, an online support app which is a directory of support available for students and parents. This can be accessed via the QR codes below and the content will be updated regularly.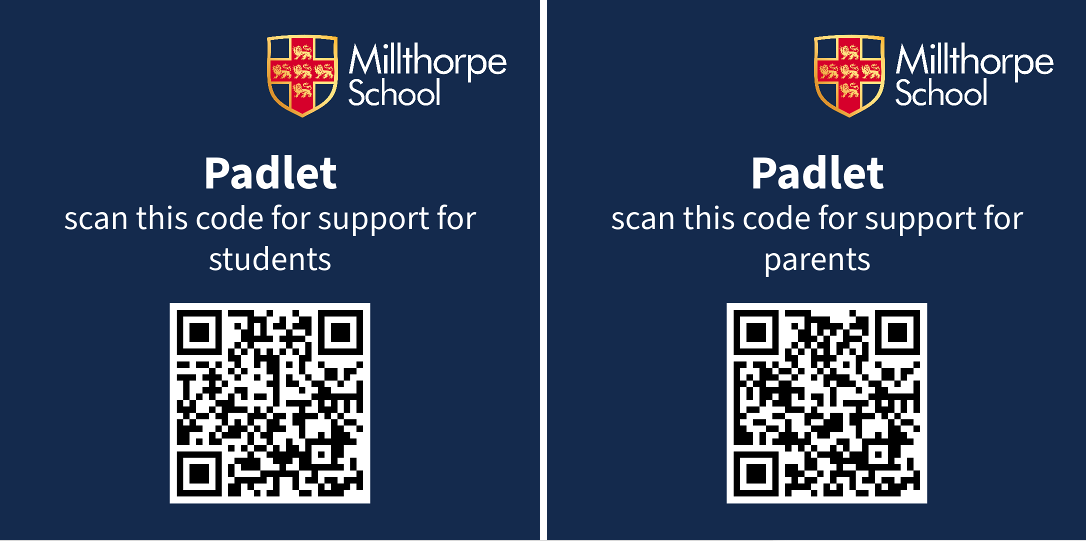 Alternatively, the app can be accessed by the following web links:
We hope that you find this helpful.
PE kit for the colder weather – message from Mr Boothman
As the weather starts to feel more wintry, for some, the prospect of outdoor PE can be less than positive. Unfortunately we can not change the weather, so what we have to do is be resilient and prepared.
Your PE teachers will always consider the weather and the sport you are doing prior to making a call on whether to change an outside plan. We will change the scheduled lessons when we feel that the learning experience will be unsafe or a really negative experience. This will mainly be due to heavy rain, frozen playing surfaces, sleet or snow amongst all of the other potential weather scenarios!
Your role in this is to come to PE prepared with your PE kit which can include some comfort essentials such as extra layers, gloves, warm hat, tracksuit bottoms (plain blue or black). All of these items are to complement the wearing of your long socks, shorts, skort, skirt, white PE top and blue reversible, fleece top.
It may be that you are scheduled to be on the AGP or field but packing a pair of trainers in addition to your boots may also be advisable on the chance that you move to an indoor space. Bringing trainers is not at the expense of bringing boots.
As always we are still asking ALL students to come to school with their PE kit regardless of injury or illness so as to give students the opportunity to engage in the lesson in a non-participant way such as coach, official, motivator or analyst.
Thank you
Mr Boothman and the PE team 
Old Millthorpian to share his wisdom with students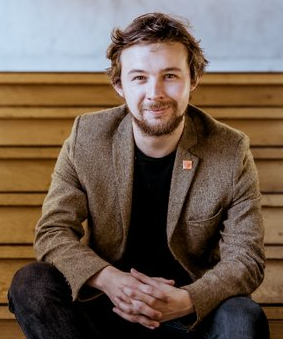 We are delighted to be welcoming 'Old Millthorpian' Tom Bellerby into school on Monday. Tom is a freelance director who began his career with Pilot Theatre and went on to be the Resident Director at both the Donmar Warehouse and the Hull Truck Theatre during the city's stint as UK City of Culture. In addition to his directing work, Tom also teaches at some of the top drama schools in the country.
It will be an absolute pleasure to have Tom back at Millthorpe where he will be giving a talk and holding a Q & A with our GCSE Drama and Music students, and then going on to spend some time working with the cast of our school production, Elf.
Are you an alumnus?
If you are an ex-student of either Millthorpe or its predecessor, Nunthorpe School, we'd love to hear from you. You can tell us what you are up to now by filling in this quick online form.
Careers programme – apprenticeships
Our careers focus this week has been on apprenticeships. An apprenticeship is a paid job where the employee learns and gains valuable experiences through on-the-job training.  A minimum of 20% of their working hours are completed doing classroom-based learning with a college, university or training provider which leads to a nationally recognised qualification.
An apprenticeship is a great paid work opportunity for people over the age of 16 in England who are: early in their career, looking to upskill in their current job, looking for a career-change or not in full-time education.
For further information on apprenticeships, follow this link.
Post-16 open evenings
Following on from Year 11 Parents Evening and conversations with our post-16 providers, please find below a list of dates when these schools and colleges will be holding their Open Evenings.
York College have asked us to apologise to anyone who was caught in the traffic at their Open Evening earlier this week and would encourage anyone who didn't get the opportunity to have a full look around to attend another of their Open Events.
York College: Wednesday 8 November 5.30-8.00pm, Saturday 25 November 10.30am-12.30pm, Monday 5 February 5.30-8.30pm, Tuesday 19 March 5.30-8.30pm and Thursday 20 June 5.30-8.00pm
Askham Bryan College: (booking in advance is required via their website – www.askham-bryan.ac.uk)) Open Mornings – 25 November, 20 January, 9 March and Open Evening – 12 June
Huntington School: 7 November
Archbishop Holgate's School: 9 November
Joseph Rowntree School: 14 November
All Saints School: 15 November
Fulford School: 16 November
Virtual SEND reviews
Parents of children on our SEND register, please keep your eyes peeled next week for a separate booking email for the SEND reviews on 22 and 23 November. As ever, if you have any queries please email: send@millthorpe.sotuhbank.academy
Elf the Musical rehearsals
Rehearsals are going well so far with all participants working really hard – keep it up everyone!
Next week's rehearsals are as follows:
Monday 23 October, 3.30-4.30pm:
Full cast needed – former Millthorpe student, Tom Bellerby, who is currently working as a professional theatre director is coming in to work with us… it's our time to impress!!
All dancers please.
Tuesday 24 October, 3.30-4.30pm: 
All principals and New Yorkers to continue rehearsing and blocking Act One.
Thursday 26 October, 3.30-4.30pm:
All principals and New Yorkers to continue rehearsing and blocking Act One.
All dancers please.
My School Fund initiative
If you have been unable to join the My School Fund initiative, as featured in last week's email, you may need to enter the following unique reference code: 27626
Visit myschoolfund.org to register for free and link to Millthorpe School. From there, everything you spend in participating stores will go towards helping boost our budget, plus your own!
Opportunities Event for young people with SEND
A reminder that an Opportunities Event for young people with SEND in Years 10+ will take place at Askham Bryan College's Conference Centre on Wednesday 25 October 2023 between 3.30-6.30pm. The event is aimed at students and their parents and carers residing in York, Leeds and North Yorkshire. You can drop in any time.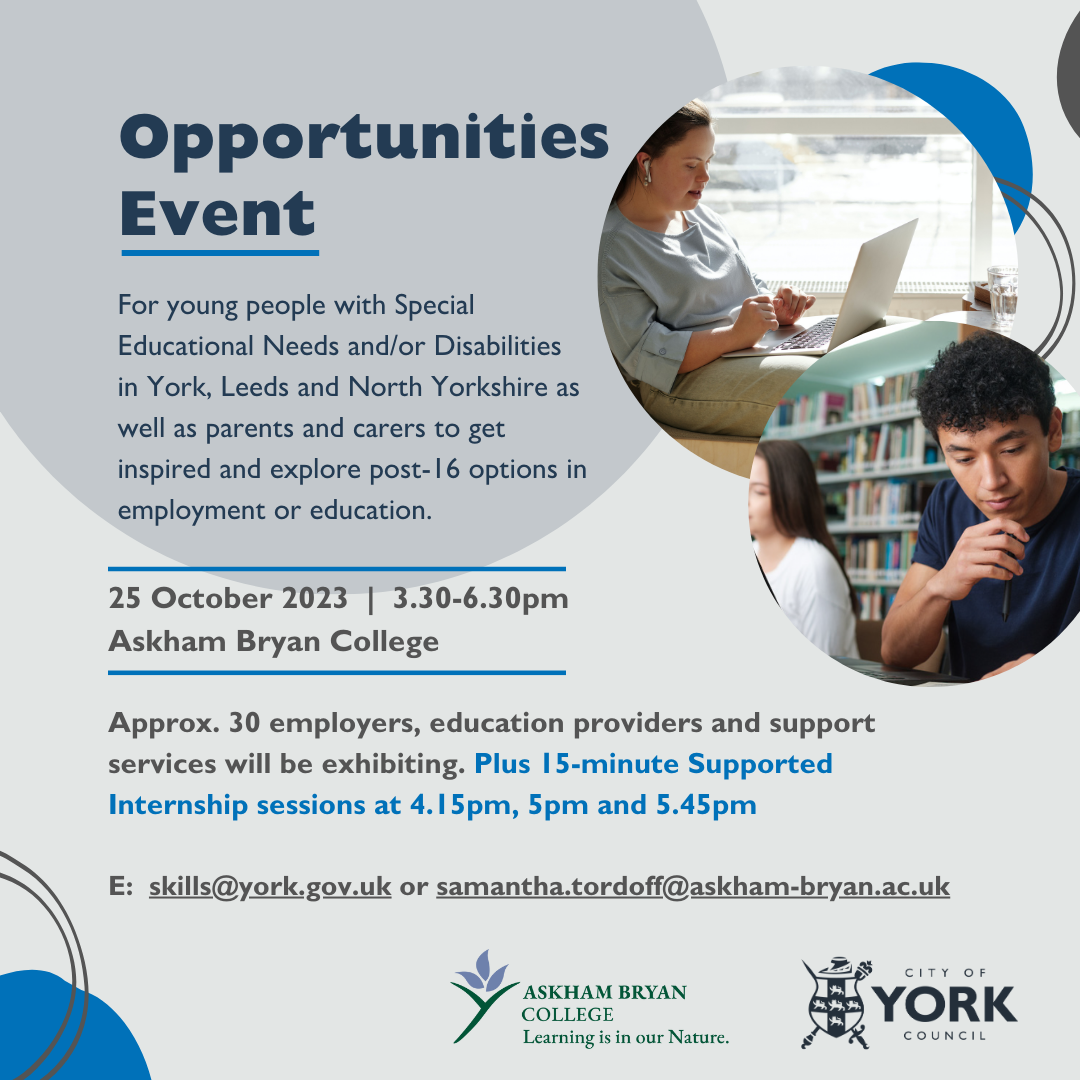 Family Matters courses
The short courses offered by Family Matters York give parents the opportunity to meet other parents and find out that they are not alone; to think about what they are doing with their children; and, in the light of the course material and ideas from other parents, decide if they want to make any changes.
The following courses, some online and some in person, are starting after half-term:
Time Out for Parents – the Teenage Years
Time Out for Parents – the Early Years
Time Out for Parents – Handling Anger in the Family
Couples Support
To book a place or for further information please visit the Family Matters website.
#WakeUpWednesday – A guide to EA Sports
EA Sports (or FIFA) is incredibly popular with many of our students. Whilst many parents/carers will fondly remember playing these football games as a child, the 2023 reality is altogether different to what we enjoyed. Scams, addiction, in-game purchases and offensive voice chat are some of the risks associated with playing this game. Please take a look at the guide from National Online Safety and discuss this with your child(ren) if appropriate.
Safeguarding
If you have significant concerns for the welfare of a child, in addition to being able to contact Mrs Cole, Mrs Cooper or Mr Beever during school hours by emailing safeguarding@millthorpe.southbank.academy, you may wish to make direct contact with the York MASH (Multi-Agency Safeguarding Hub) on T: 01904 551900, option 3. They operate an out-of-hours service so concerns can be raised with them at any time.